??, I ordered and tried on over 100 different tees to find the softest, least transparent, most flattering white t-shirts available.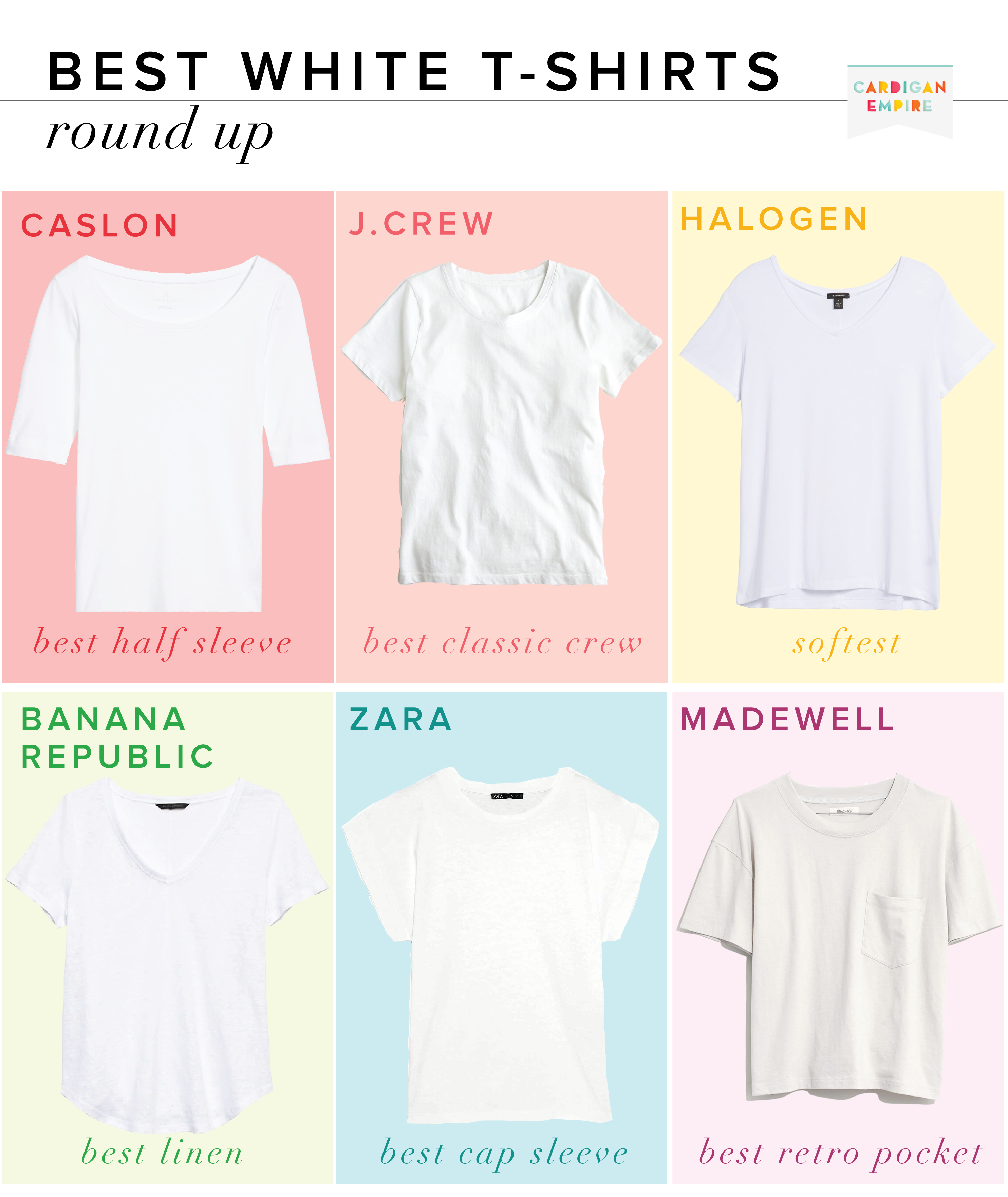 Now, T-shirts aren't an item it makes sense to pay a lot for; you won't be able to recoup your cost per wear. Let me explain, whether you buy a tee for $98 or $25, you're probably only going to get 25 wears out of either of them.  Higher quality fabrics are less likely to shrink and pill, but they are just as likely to stain and form little holes at the bottom front from your denim hardware. Which means your more expensive option will end up being almost $4/wear.  (You're less expensive option is just $1/wear).  In general, I don't recommend spending more than $50 on a tee.  And all my recommendations here are under $40.
I selected one winner and one runner up for 6 different categories of white t-shirts:  best half sleeve, best classic crew, softest fabric, best linen tee, best cap sleeve, best retro pocket.
Best Half Sleeve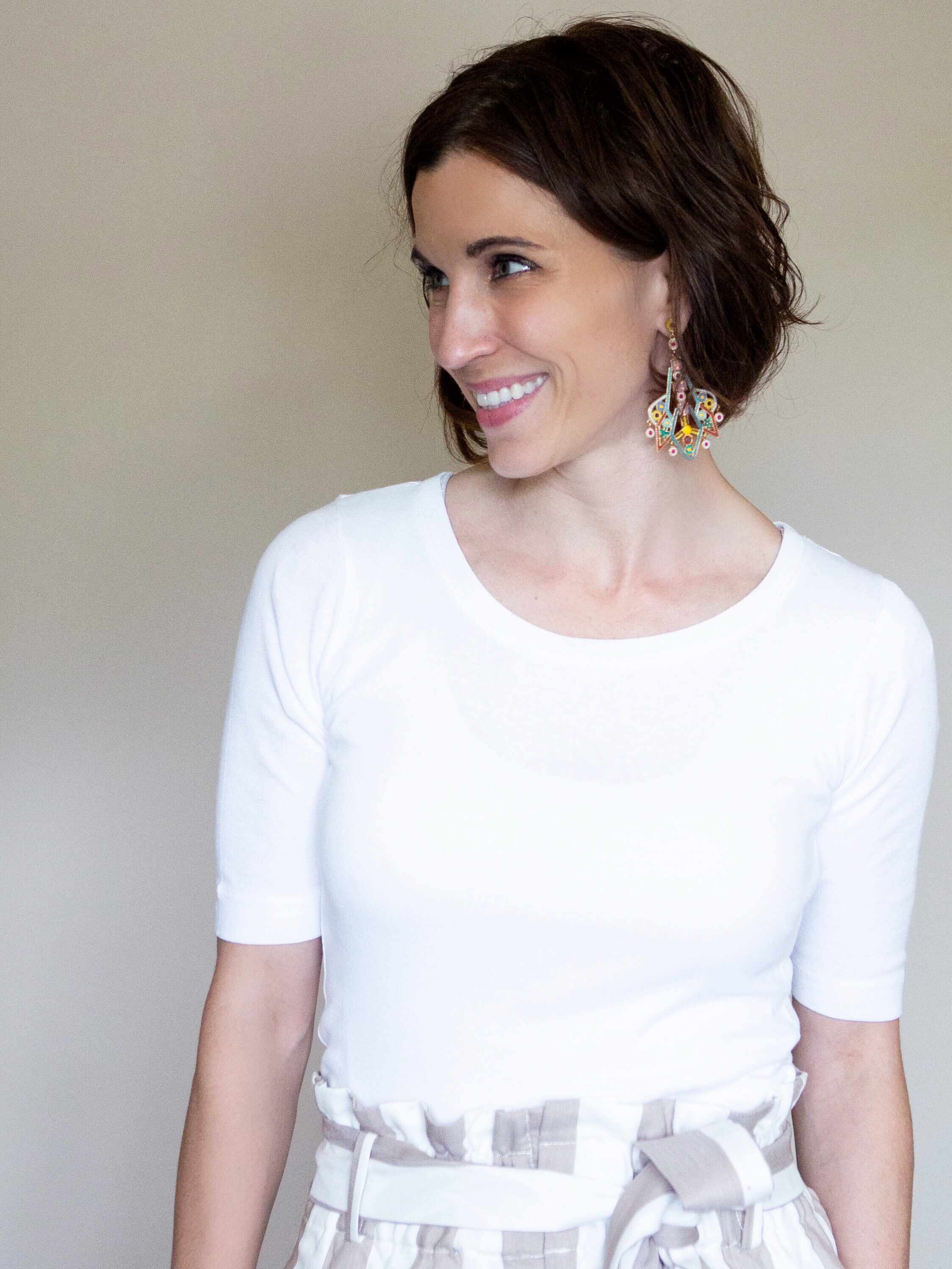 Wherever your sleeve hems ends will bring attention to the body area it is nearest.  A half sleeve will therefore bring attention to the area just under the ribcage where most women are narrowest.  A half sleeve has the additional advantage of offering a bit more coverage for shy arms.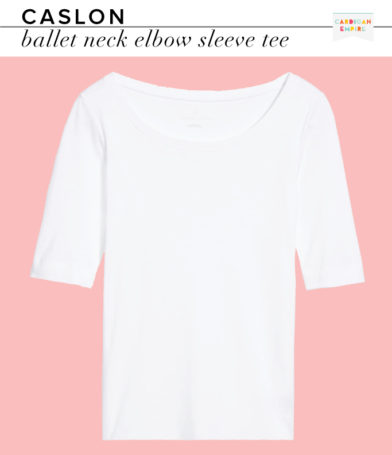 Winner: The Ballet Neck Half Sleeve from Caslon, $29 is an ideal weight for offering comfortable coverage.  It's perfect for dressing up and tucking into a high waisted paper bag pant.  Consider sizing up if you want a looser fit.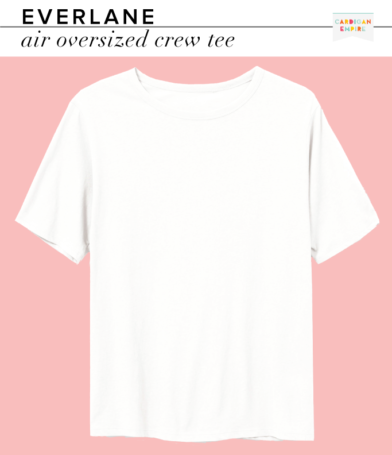 Runner-up: The Everlane Air Oversized Tee, $25 also offers a longer elbow sleeve length.  The fit is more relaxed and slightly androgynous.  If you prefer a slightly more disheveled, untucked approach, this fit should suit you perfectly.
Best Classic Crew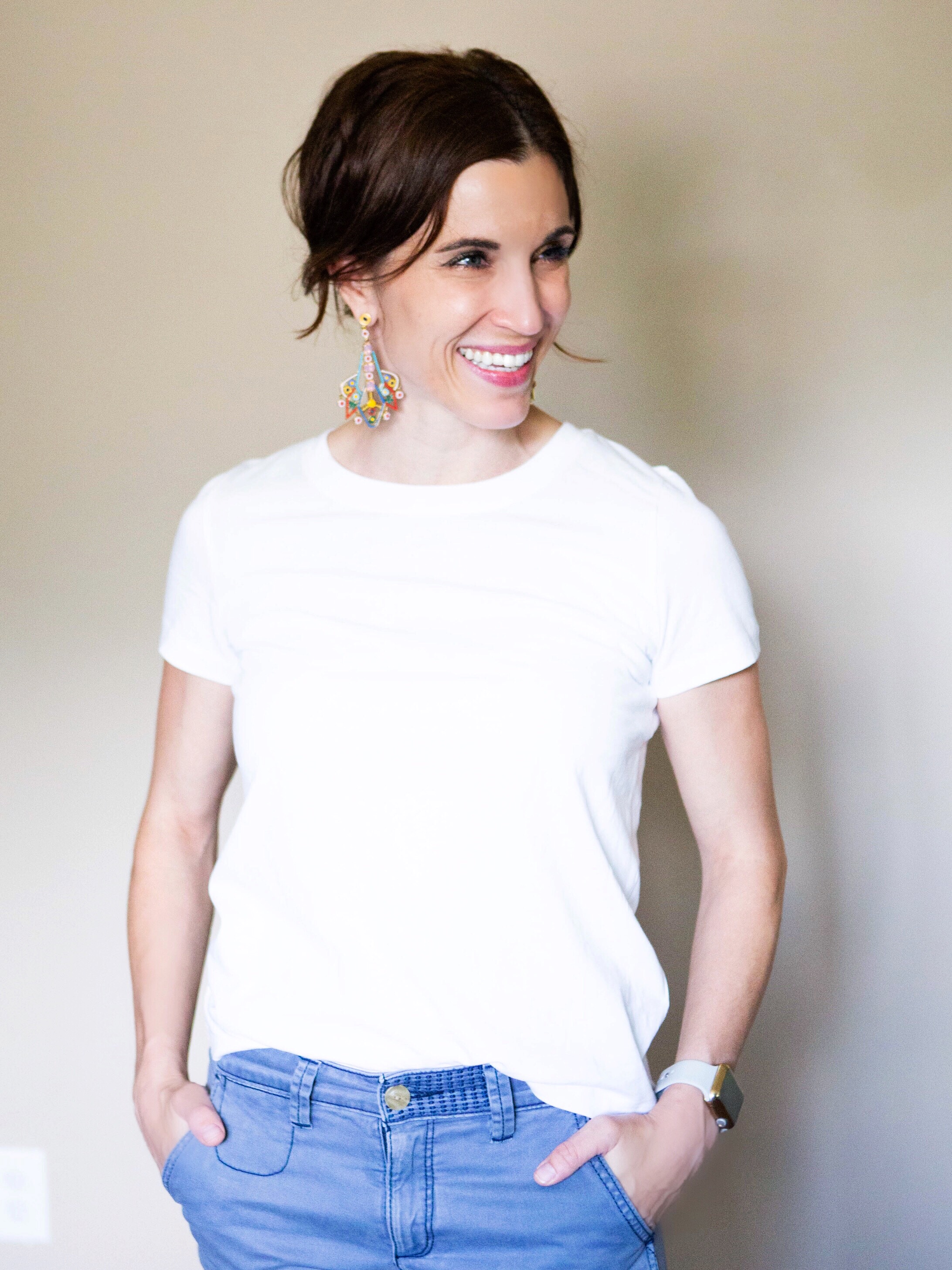 Because crew-necks create an uninterrupted expanse from the neck across the shoulders and down the torso, they are going to maximize the breadth of the shoulders and the fullness of the bust.  (Cutting the figure into distinct sections with say a V-Neck makes it appear smaller).  The slimmer the fit, the more pronounced the effect. This is great cut for a straight upper body or a lower figure with a more delicate upper half.  On the latter I recommend tucking the hem into the waistband or finding a cut that ends around the widest part of the hips. You can also soften the effect by moving to slightly lower, round neck.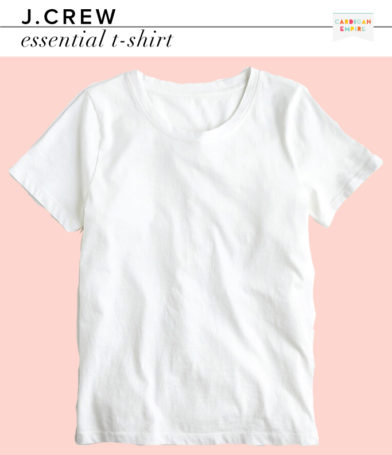 Winner: J.Crew has been perfecting its Essential Tee, $14.50 for almost 75 years.  This tee is perfectly slim, exquisitely soft, and has a high neckline that's ever so slightly rounded.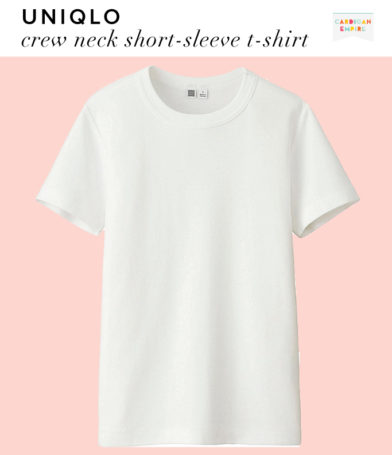 Runner Up: T-shirts were invented to act as an under-layer for suits and athletic gear.  They existed to absorb sweat and prevent chafing.  Whether you use Uniqlo's Short Sleeve Crew Neck, $14.90 as an underpinning or as an ensemble star, you won't be disappointed with it's clean fit and soft fabric.
Softest Fabric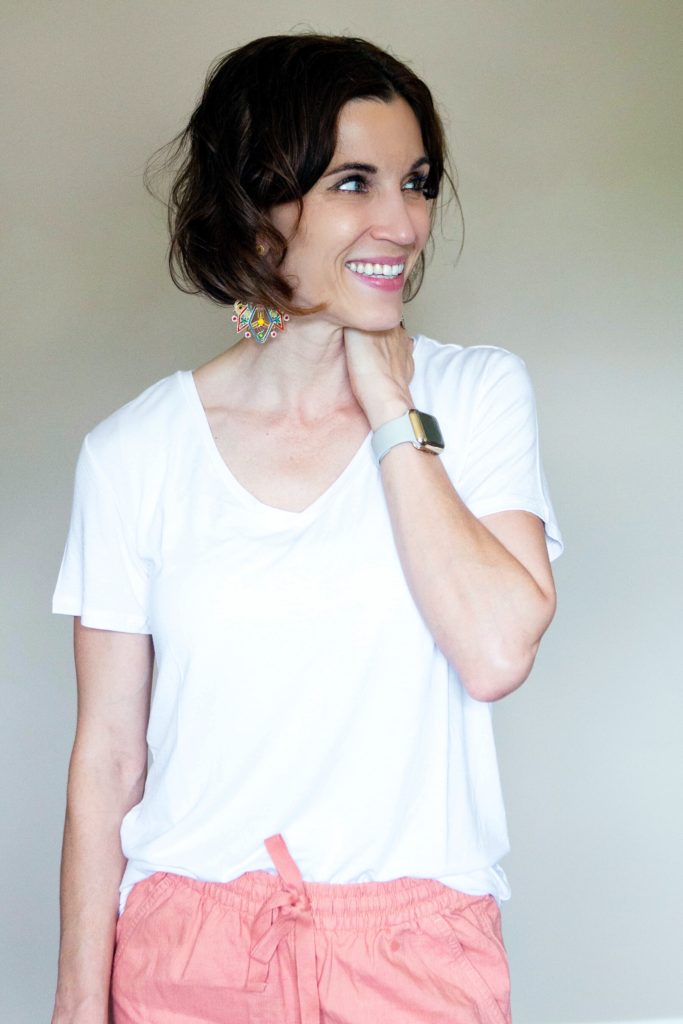 The most common t-shirt materials are cotton, linen, or some kind of blend of these materials with a synthetic material.  The first and original is generally less expensive but relatively soft and durable.  We'll address linen shortly, but for now, the synthetic blend or Modal fabric is generally the softest and depending on the blend of fabrics can resist loosing its shape the best.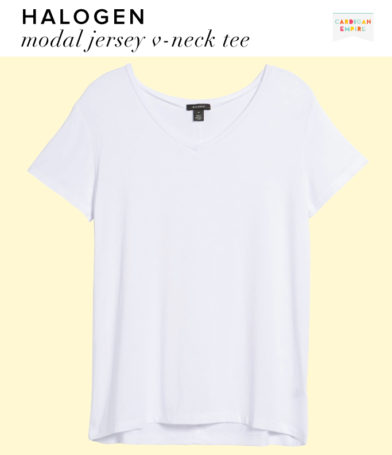 Winner: Nordstrom's Halogen Modal Jersey V-Neck Tee, $16.99 may just be my favorite t-shirt of the whole set.  The V is neither too high or too low, the fit is relaxed without being sloppy, and the fabric feels like your favorite pajamas.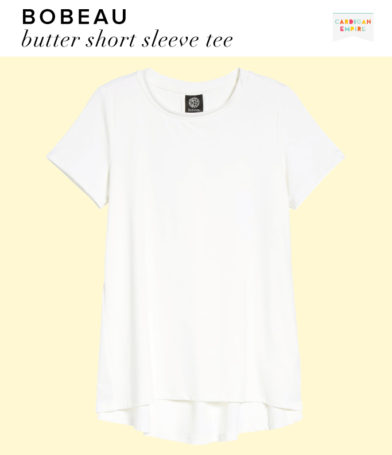 Runner-Up: Bobeau's Butter Short Sleeve Tee, $39 has a playful swing cut and is aptly named for it's buttery soft modal fabric.
Best Linen T-Shirt
When it comes to light and airy, few things compete with a linen fabric.  It's breathable, wicks away moisture, and adds a subtle texture to an everyday basic.
Winner: At $16.99, Banana Republic's Linen V-Neck T-Shirt rose to the top of this summer staple category.  The weight of this fabric was just right: not transparent, but not at all heavy.  I also loved BR's sister company's option at Athleta, but the price there was more than double.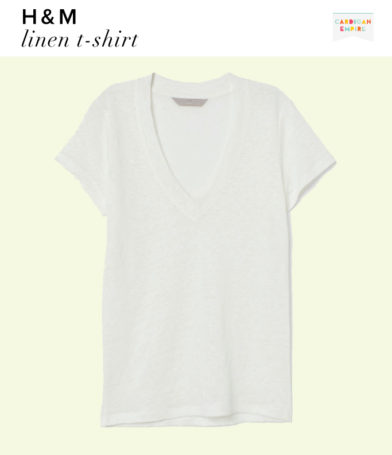 Runner-Up: I purchase last season's H&M's Linen V-Neck, $17.99 and have worn it down to pennies per wear.  It's held up in the wash withstood many a sweaty summer afternoon.  The current season's cut is a bit slimmer with a slightly deeper V, but the fabric is just as durable and soft.
Best Cap Sleeve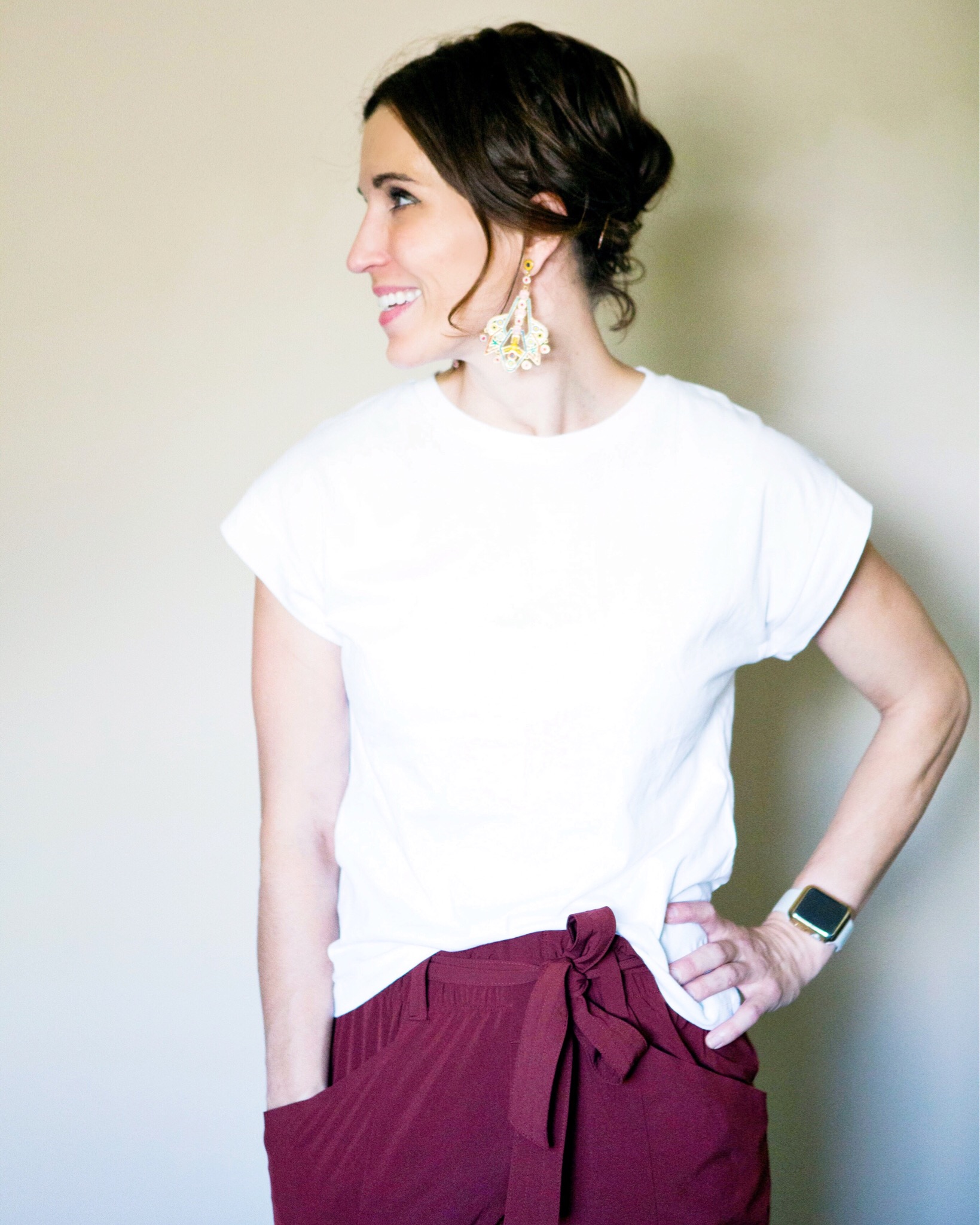 One of my favorite combinations this season is a cap sleeve with a relaxed cut. Loose full cuts are extra comfortable and less likely to be see-through even when the material is somewhat sheer.  Pair these with a slim bottom like jeans and style using a front French tuck to get  the architectural fit without looking overwhelmed.  Definitely opt for a liquid fabric over anything stiff and bulky.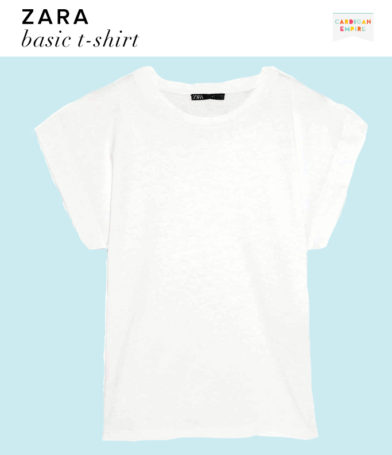 Winner:  Zara's Basic T-Shirt, $9.90 is really anything but.  The versatile cut offers a flattering cap that fits a bit like a muscle tee, minus the side-view overexposure.  The fabric is soft and breezy at an under $10 price tag.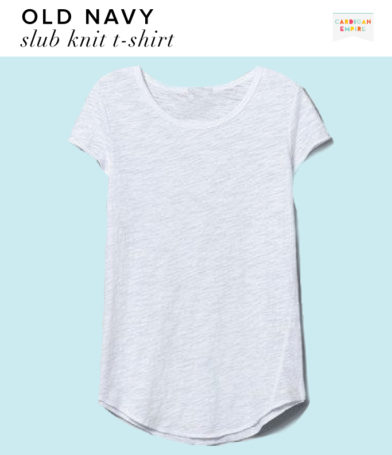 Runner-Up: Old Navy's Everywhere Slub Knit Tee, $12.99 has a slightly longer sleeve but still ends near the bust line.  This is a great length for slim upper bodies looking to balance out a curvier lower body.  The slub knit has a subtle texture similar to linen, but in a cotton construction.
Best Retro Pocket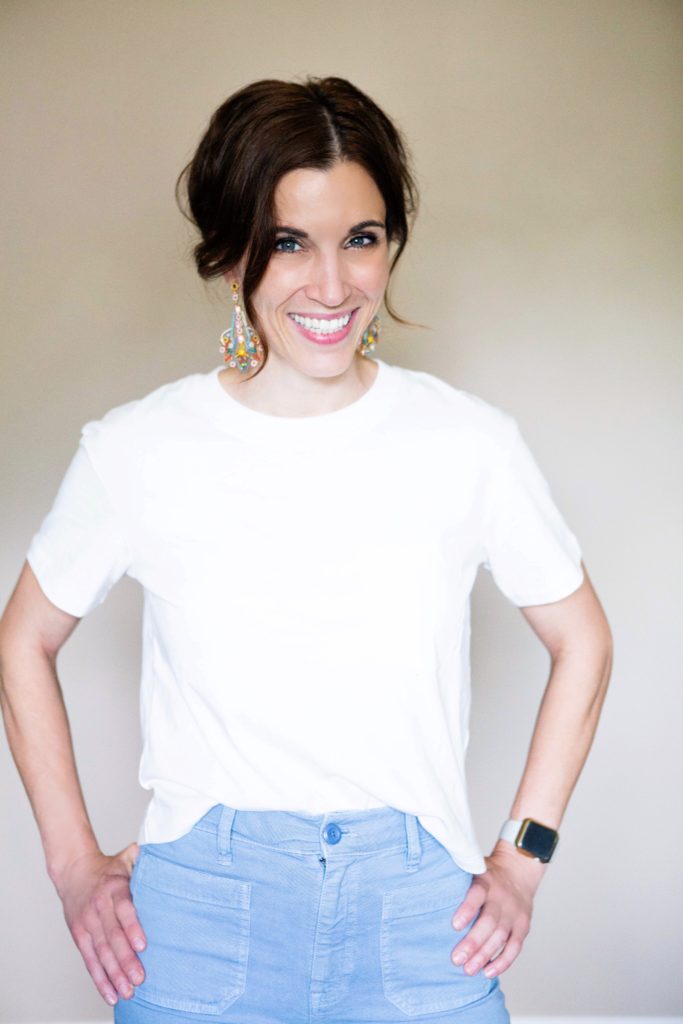 Pocket placement and size can make or break a t-shirt.  It becomes particularly important with a close fit as the pocket will be stretched across curves.  These two options offer slightly different features, but both nail perfect pocket application.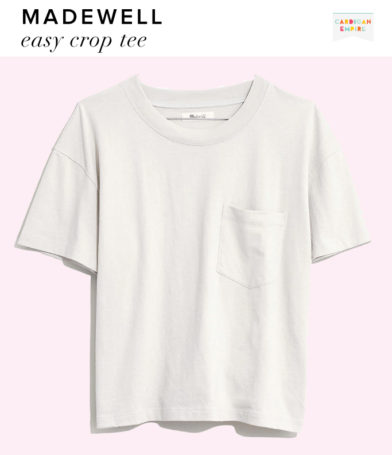 A tee in optic white (see Madewell's Crop Tee, $24.50) is the easiest to keep clean because you can use bleach with it to remove stains.  However if you have a warm undertone to your skin you may want tot try a cream or off-white, like Madewell's Easy Crop Tee.  A little bit of yellow will make it a better match for your complexion.  (PS-I loved almost all of Madewell's fits and fabrics, but no one else made a crop that was playful without being indecent for someone over the age of 25 😉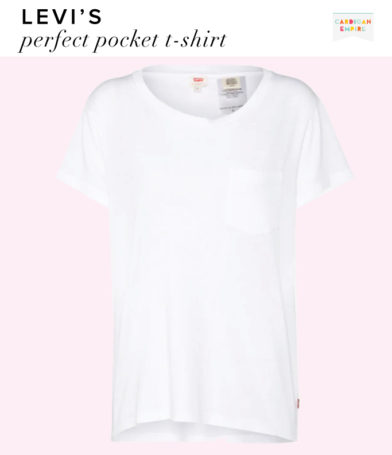 There are few brands more iconic than Levi's.  Their perfect pocket tee, $29.50 draws on Levi's history of durability with an effortless fashion than feels retro and on trend simultaneously.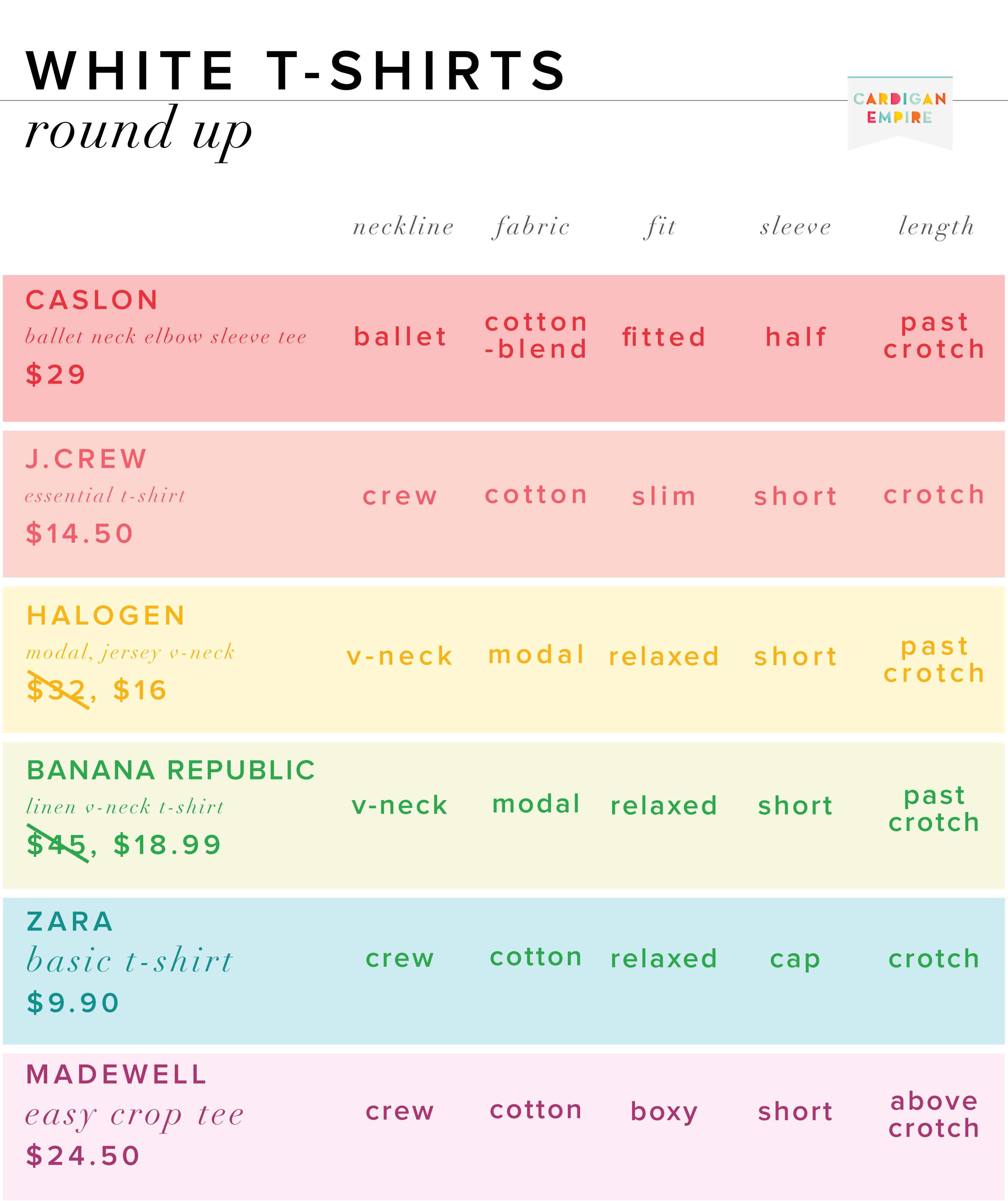 Did I miss your favorite?  Tell me about it in the comments.  I'd love to try them out too.