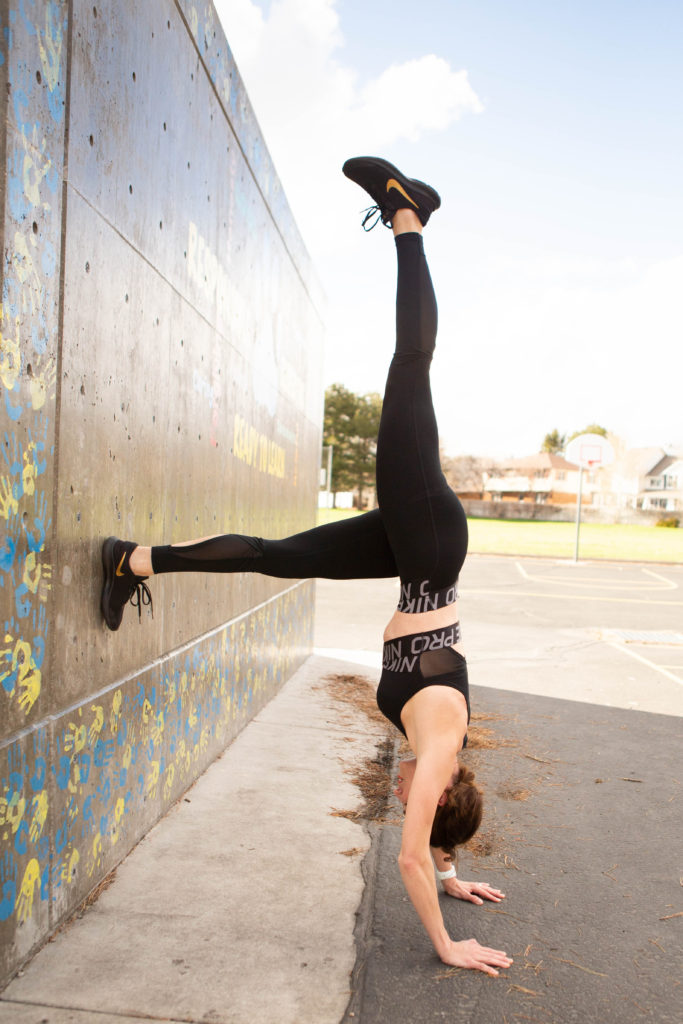 In response to many reader requests, I wanted to share a review of my favorite tight (workout legging) brands and cuts.  As a disclaimer, I work my activewear hard, and I enjoy variety.  I run a few miles then jump into a hot yoga class.  I frequent interval classes, enjoy rowing sprints, and welcome agility exercises.  My leggings need to endure jumping, bouncing, twisting, and sweating…lots of sweating.  I favor leggings that are versatile overspecialized.  So whether you run, cycle, stretch, lift, or all of the above, these should be able to meet your needs.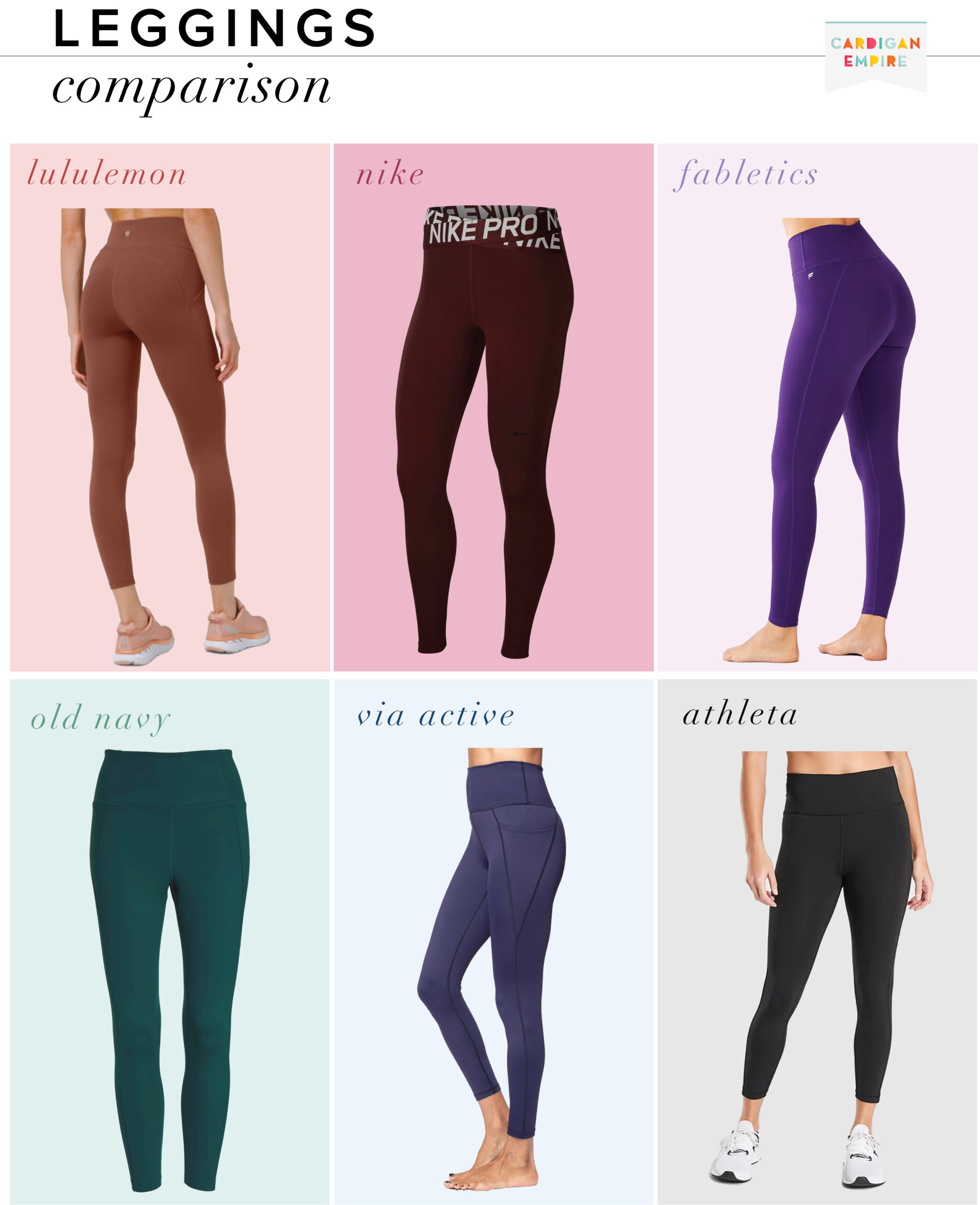 I only own a few pairs of leggings, and I wear each pair an average of once a week.  In order to enter my workout drawer, each pair has to be prepared to hold up for at least 75 wearings and washings.  So whatever the cost is, divide it by 75 for the maximum cost per wear (ie $98/75 =$1.31 per wear).  I've had most pairs for much longer than that, most closer to 2 1/2 or 3 years, so the cost per wear ends up being lower (ie $98/130=$0.75).  These are not disposable clothing flings.  I am engaged in serious legging relationships with each of these brands and cuts.  I've worn all of them hundreds of times, and I have bought most items more than once.  Coming up I'll give you all the dirty details.
I rated each legging on the following criteria:
Rise – the only rise I consider is high rise.  After giving birth to three babies and having two internal organs reattached #notjoking, I figure my abdomen deserves it. I didn't rank this category because all my recommendations included a rise that reaches to at least the bottom of my belly button.  I also ensured every pair I recommended could pass a squat test.
Sweat Wicking – Is moisture quickly dried to avoid chafing and embarrassing sweat centers? Does the fabric allow air to circulate to avoid overheating?
Smoothing – Is the look free of any lumps, bumps, and extraneous details?
Comfort – Is the fabric soft and easy to get into? Is there any pinching?  Do the seams dig or irritate?
Fit -Is there any bagging?  Are any areas too short or too long?  Do they stay up and stay out of confidential nooks and crannies?
Fashion – Is the design fun, unique, and unexpected?  Are they recycling trends or paving their own path?
Longevity – How many wears and washes can we expect this item to endure?
*I am 5 ft 5 in tall.  I wear a 7/8 length almost exclusively.  Full lengths are typically too long, and hemming a tight is usually a poor solution.  You'll end up with a pant leg opening that is too wide for your ankle because it was designed to fit a calf.
Now on to the reviews –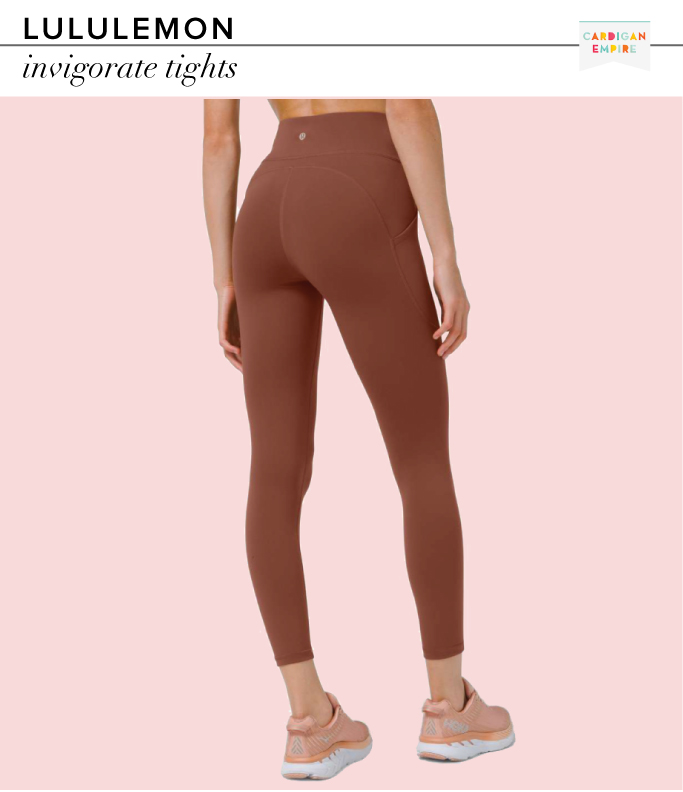 There's a reason why Lululemon has such a strong following.  The fabric is buttery soft held together with flatlock seams.  The fit is ridiculously comfortable, yet perfectly smoothing, and the fabric holds up wash after wash.  And if it doesn't hold up, the company stands behind their products.  My favorite offering is Invigorate in Everlux (previously I swore allegiance to In Movement, but this line was discontinued and replaced).  The fabric is smooth, slippy, and cool.  It quickly wicks away sweat, offers just the right amount of compression, and has a pocket for my phone in the back.  The 7/8 fit is perfect for my height, and I don't have any bagging or pooling fabric anywhere.
The biggest downside I see to Lululemon, besides the high price, is everyone wears this brand.  In all likelihood, you're not going to be the only person wearing your outfit.  Which really isn't a big deal, unless you make it into a big deal.  (Other favorite cuts – Align, perfect is you like an extra soft and less compressive fit, Wonder-Under – the original fit doesn't flatter my dominant hips and thighs as well.  I like a few side seams to break the expanse up.  But many devotees swear by it. )
Finally, lots of people have been raving about the value of CRZ Yoga.  Apparently, these Lululemon dupes are pretty comparable, at about 1/4 of the price. (See my latest legging review, if you want more ideas on Lululemon knock-offs.)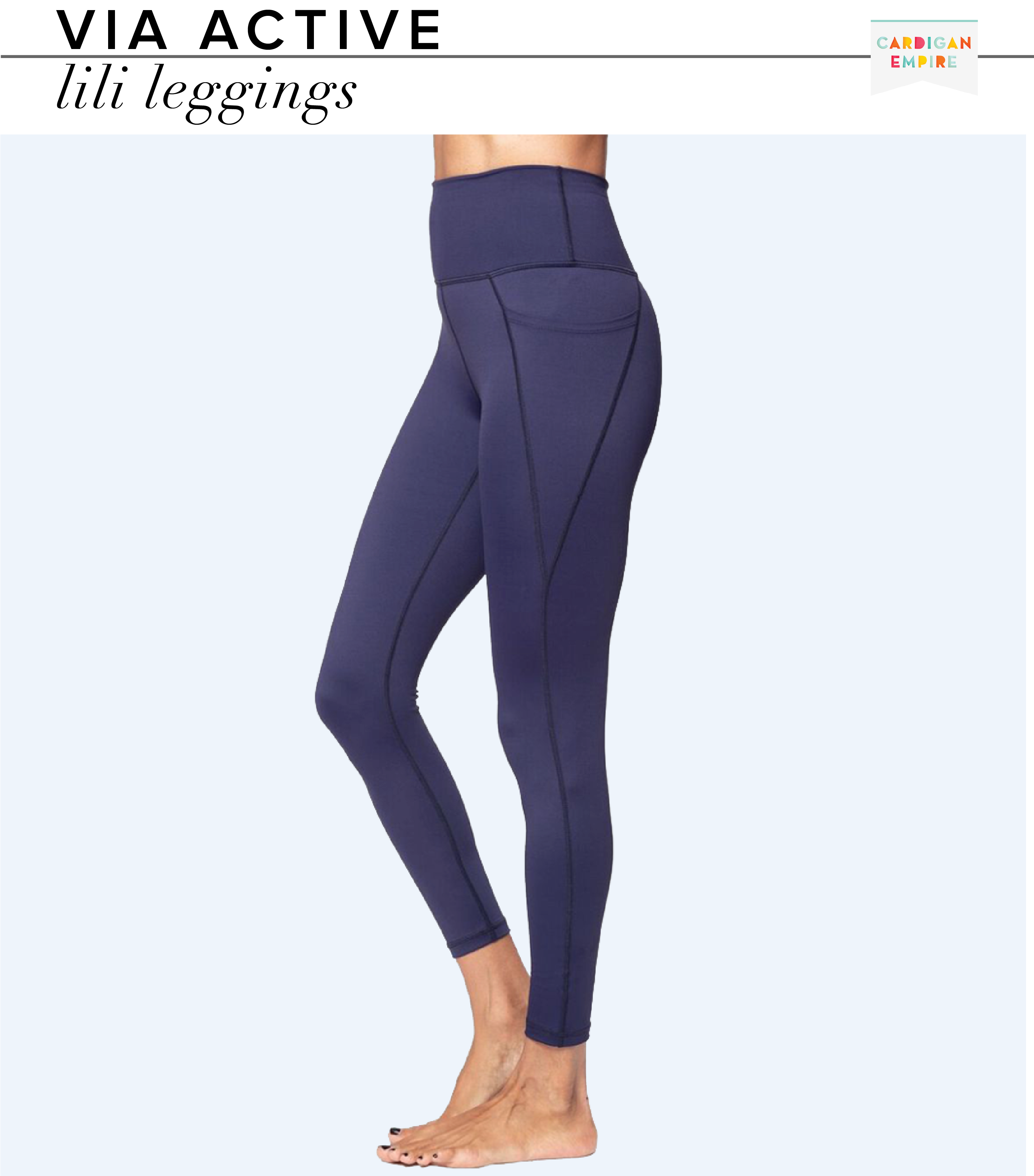 I was gifted a pair of these leggings about a month ago and quickly fell in love with this boutique, premium brand. The Vie Active Lili features an extra high rise (a little above my belly button).  I think I would have been ok with their popular, though slightly lower, Rockell rise as well.  The fabric is airy and luxurious.  I was dry quickly after finishing my workout.  My favorite feature was the double pockets on the sides for a phone, credit cards, ID, or other essentials.  While the fabric was very sleek, it wasn't as smoothing or compressive as other premium fabrics I included. I could see the indentation of a scar through the fabric. It's not necessarily a bad thing, it probably makes the overall fit more comfortable.  I'm still confident in them, but it is something I wanted to note.  This brand is classic with a twist:  unexpected enough to be different but simple enough to be elegant.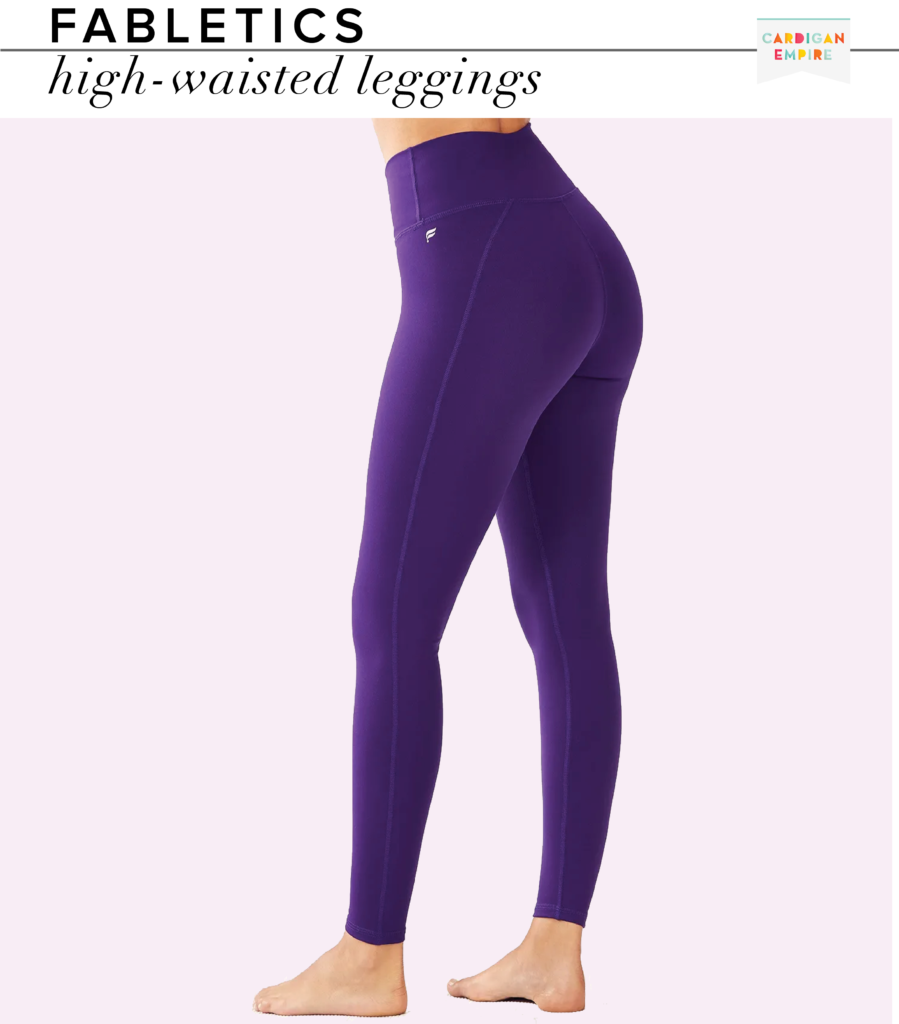 I bought my first pair of High-Waisted PowerHold Leggings from Fabletics after my last son was born 3 years ago.  I still have those leggings, and I've bought another pair since.  Their price falls in the mid-range (even less for VIP members), but they hold their own again pairs twice the price.  They are very smoothing, offer a flattering fit, and lots of fashionable options.  My only complaint is that the fabric is rather thick.  It's great for running outside in the winter, but not as comfortable in the summer.  They were also a little harder to get into and sometimes left seam lines when you took them off.  As a VIP member, I was also disappointed at how many options were sold out in the color and size I wanted each month.  I eventually learned that availability is usually the best at the very beginning of the month when VIP members can first start picking their new selections.  Finally, the fabric has faded a bit after years of wear.  It is still definitely worth the money I paid for them, but it's something to consider if you plan to wear your leggings regularly.  If you like to switch up your leggings on the regular, this might be the perfect option for you.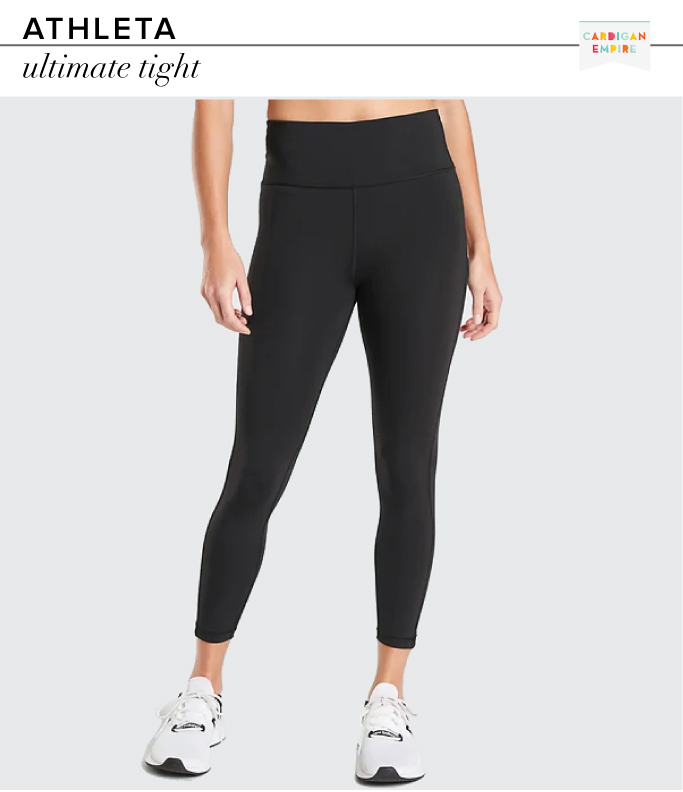 The new Ultimate line is shaping up to be a strong replacement to my previous favorite Run Free line from Athleta.  It's perfect for running and high impact exercises at the gym.  It features the Supersonic fabric which is compressive, but still very soft and comfortable.  It's showed up looking new, wash after wash.  If you want more reviews on Athleta products and their Amazon dupes check out my latest post on leggings.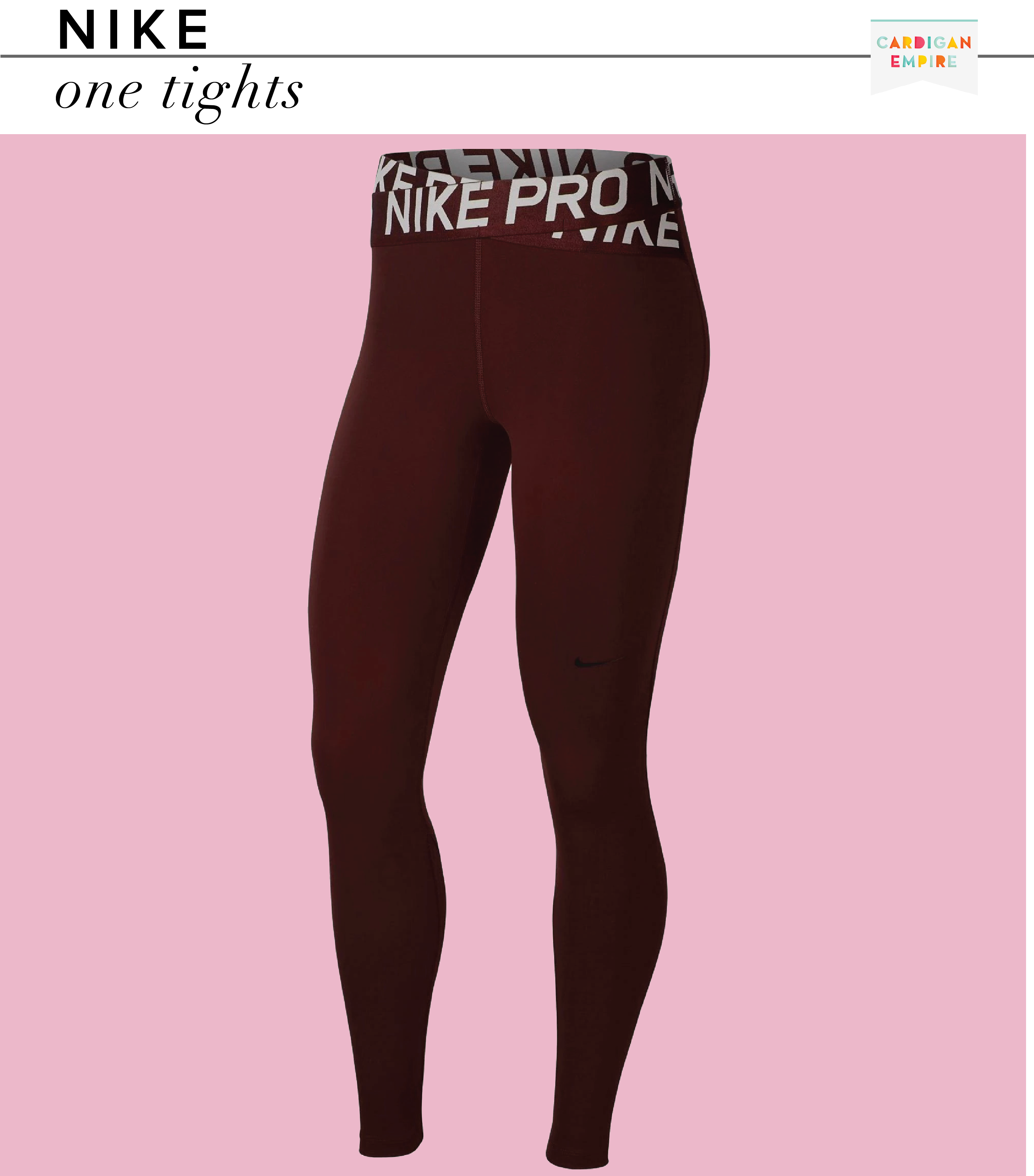 I have loved Nike's fashion-forward designs since I started running twenty years ago.  I love how they push the envelope with modern, edgy, architectural designs.  And the brand is ridiculously iconic.  Recently they started offering a lux line in addition to their standard cuts.  These options offer higher quality fabrics.  Cheaper fabrics are typically heavier, coarser, and will fade or lose shape more quickly than premium ones.  While I loved the feel of the Nike One Lux fabric, it did not wick as quickly as some of the other options.  I definitely could see quite a bit of sweat, especially visible in the lighter colors.  The biggest thing to watch for on Nike clothing is inconsistencies.  Because they manufacture in over 700 factories, none of which they own, you can't always guarantee what you are going to get.  I almost always buy direct or through a trusted reseller.  Also, sizing can vary widely, so always, always try it on before committing.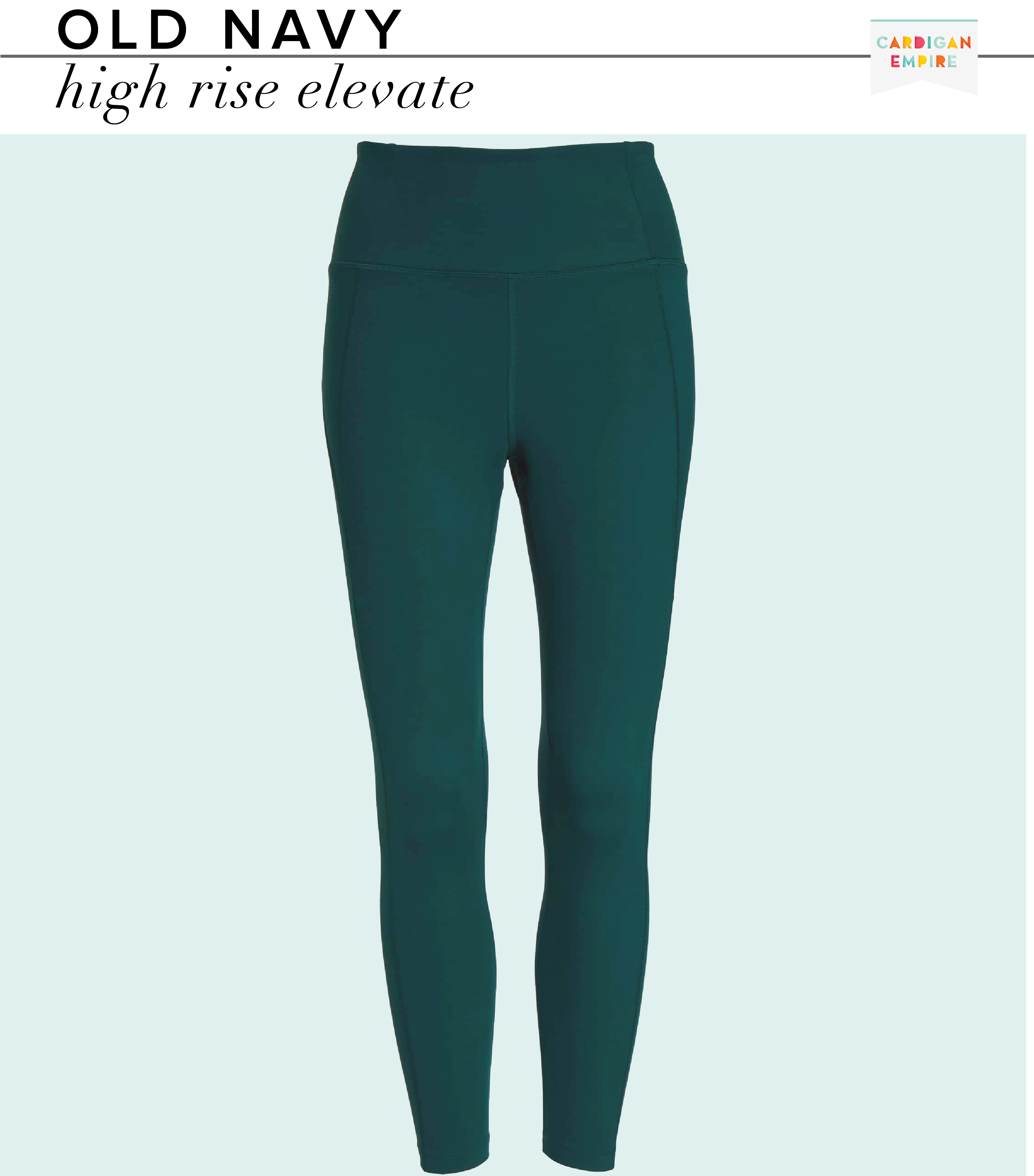 So I'm not going to lie.  I actually don't own a pair of the Old Navy High Rise Elevate Leggings.  But I have tried multiple pairs and practiced several exercises in each.  And I also tried on several other leggings at the same price point before settling on these as the superior choice. I wanted to include something in the lineup that was under $50 in case you don't plan on wearing your leggings hundreds of times.  Maybe you're more of a shorts girl but need a pair of tights for cold weather, maybe you're in between sizes, or maybe this is the best you can justify right now.  I totally get it.  And Old Navy Elevate is a solid option.  The fit is good overall, a few creases, but nothing alarming.  The fabric is smoothing and supportive, but it is also coarser than anything else I recommended, and it took some muscle to get them on.  Although the seams are flat, I'm pretty sure you'd end up with some itchy seam lines on your legs if you wore them for an extended period of time.  However, at this price point, I still think you're getting a good value.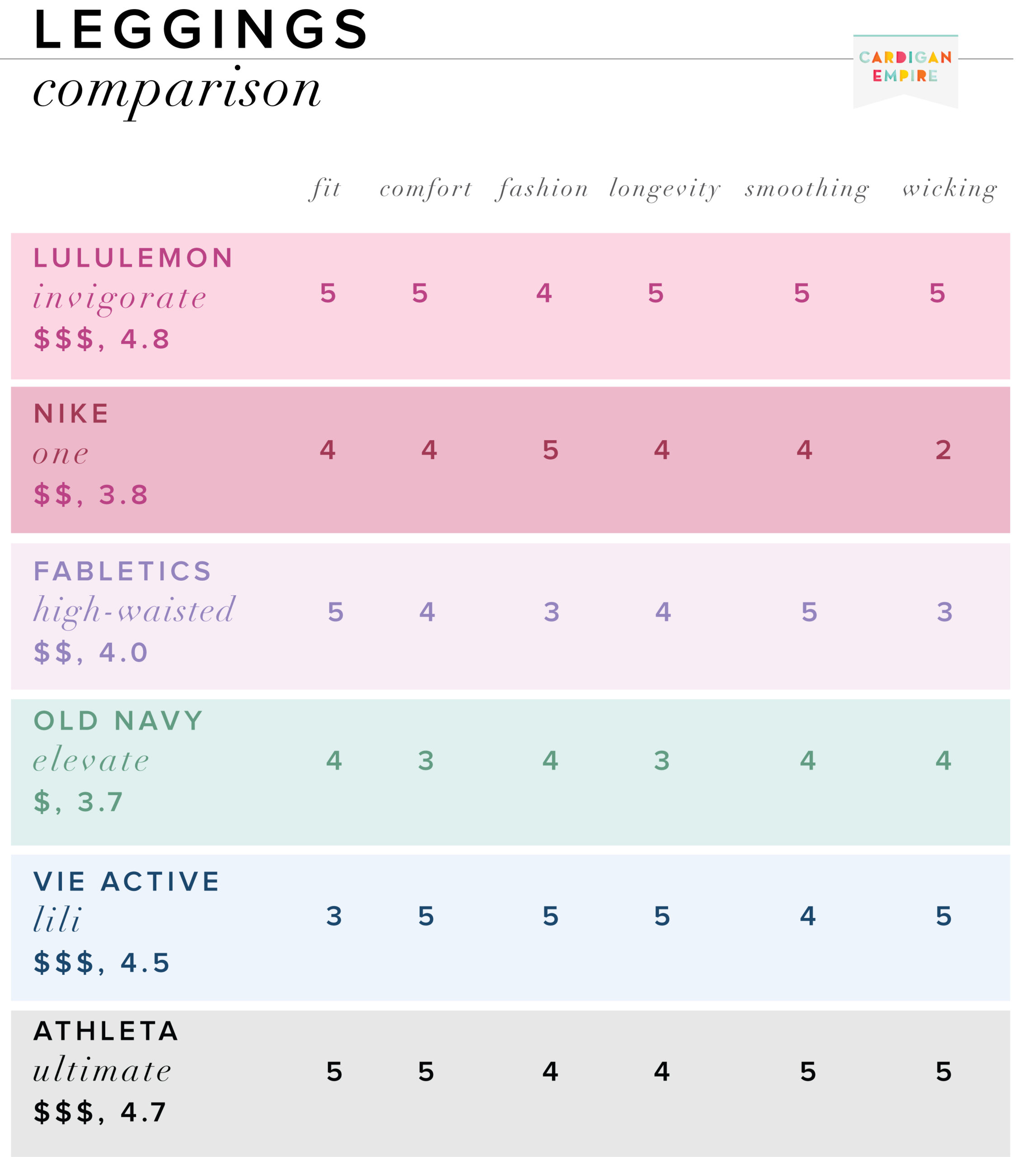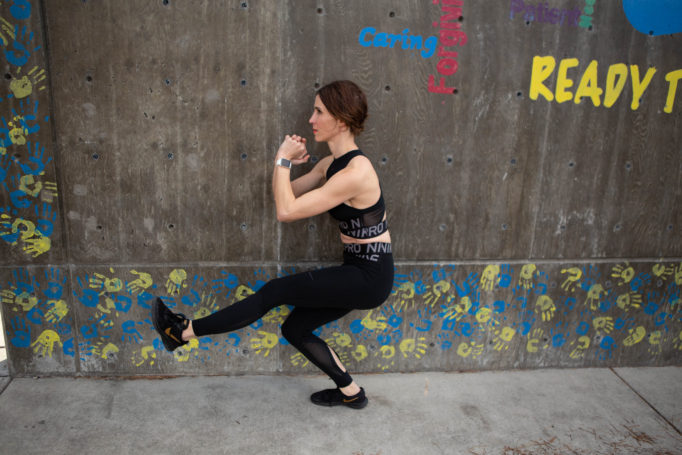 Honorable Mentions:
Although they didn't make my top 6, I also wanted to include a few other brands that might be the perfect fit for you.
Lorna Jane
This brand is fun, edgy and on par with other premium brands.  I have purchased and tried them on in the past, but I didn't end up keeping anything because I ordered the wrong size and/or length.  Because these are an Australian brand, they do run smaller than American brands.  And since they don't have a local store in my area, it's harder to experiment and narrow it down to your perfect fit.  However, this pair is on my list to order and try out next.
Zella
When I asked for recommendations on leggings, the Zella Live-In High Waist Leggings came up over and over again.  Fans love them for the gym and beyond.  Zella offers a moderate price point and is carried by Nordstrom Department Stores.  I'm wondering if I'm daring enough to stray from my standard dark bottom uniform and try out this white marble pair.
Alo
Designed in sunny L.A. this celebrity favorite looks just as good outside the gym as it does inside it.  Expect street smart designs that lean tastefully provocative.  The length of the waistband isn't quite right for my body proportions, but I've seen dozens of other "real life" women looking amazing in their leggings.
Senita Athletics
I first gained respect for this brand when I saw their sports bra with a phone ready pocket in the back.  I'd been wedging my phone precariously between my back and the t-band for years – it's like they read my mind! Their legging details are unique but subtle and their price points are very reasonable.
Outdoor Voices
I'm pretty sure I need this polka dot patterned legging.  Their pricing is in between moderate and high.  They're a good way to enjoy premium quality without splurging entirely.
Spanx
I love the cut of these.  I have a street-ready pair and can't wait to try on an active ready pair.  Their Slim-X fabric offers their signature compression in classic color with minimalist details.
Albion Fit
I've only ever owned Albion Fit's swimwear, but it was exceptional.  The fabric lasted as did the color.  I'm excited about supporting this local business.  This Intention cut seems like the best fit for my workout routine.  Their fits are classic with a slant towards romantic florals and feminine prints.
Carbon38
Full of bold, modern colors and edgy textures and details, the High Waisted Takara Legging is perfect for tall girls.  However, if you're 5 ft 7 in or under, I recommend going for the 7/8 length as they do run long.  The liquid fit was smart, but it did show some sweat marks, especially in the lighter colors.  The fabric was smoothing and somewhat compressive.  It was comfortable, but I wouldn't categorize it as soft.  The fabric blend felt a little more synthetic, less organic.
Did I miss your favorite?  Tell me about it in the comments.  I'd love to try them out too.