After helping hundreds of clients identify their fashion signature styles, I've come to realize that we have stronger crossovers between what's in our closets and what's ornamenting our couches than we may have recognized.
Both can be dissected into five primary categories: (1) Romantic – Traditional, (2) Bohemian, (3) Classic-Transitional, (4) Modern, (5) Dramatic-Hollywood Regency.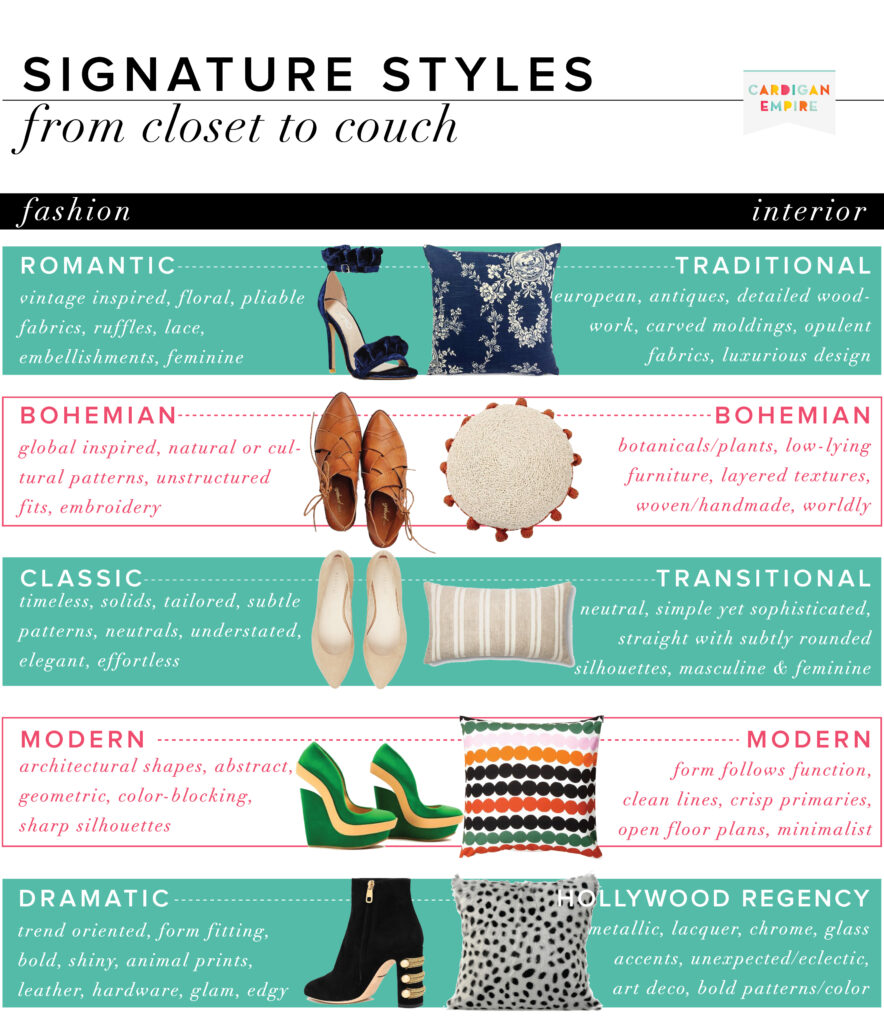 Take note of the order of the categories.  The first categories are more detailed, ornamented, traditionally feminine, and vintage inspired.  Passing over the neutral space of classic and transitional, the final two categories look to the future trends over past nostalgia.  They tend to edit out extraneous details and reflect a stronger more powerful aesthetic.
In the past, I've spent several posts illustrating how fashion can blend these categories into a unique personal wardrobe.  But this categorization also allows for blended styles in the realm of home design.
Shabby Chic = Traditional + Bohemian
Shabby Chic takes on European influences with its ornate detailing, but shows the wear, patina, and exposure of time typically attributed to Bohemian styling.  French Country falls into a similar designation.
---
Scandinavian = Transitional + Modern
The Scandinavian style made famous and affordable by Ikea includes large doses of neutral Transitional design and Modern form driven by function.  It blends well with Bohemian textures as well but edits out excess patterns, colors, and details in favor of a clean, inviting space.
---
Coastal = Transitional + Hollywood Regency
The ultimate in breezy, seaside leisure, this style is simultaneously polished and relaxed.  Its laid-back Transitional side offers vacation-style ease while its Hollywood Regency side provides pops of preppy sophistication.  Should you prefer a more tranquil approach replace Hollywood Regency with Bohemian textures.
---
Industrial = Modern + Bohemian
Carefully edited color palettes, minimized decor, and abundant natural light add a very modern feel to Industrial spaces.  While Bohemian natural elements like concrete, raw wood, unadorned lighting, and exposed structures create a unique design perspective.
---
Contemporary = Modern + Hollywood Regency
Hollywood Regency trademark tells in glass, chrome, bold materials, and sleek finishes are restrained by the Modern aesthetic – fewer colors and contrasts but plenty of glamour and sex appeal.
---
Recently my husband and I finished building our own blend of style aesthetics. My husband is Modern, minimalist, and slightly industrial. I am more eclectic and bold – leaning towards stronger patterns, colors, and texture (Hollywood Regency).  We're distinct, but we both appreciate the other's style.  Pushing to combine both has allowed us to have something really unique and unexpected.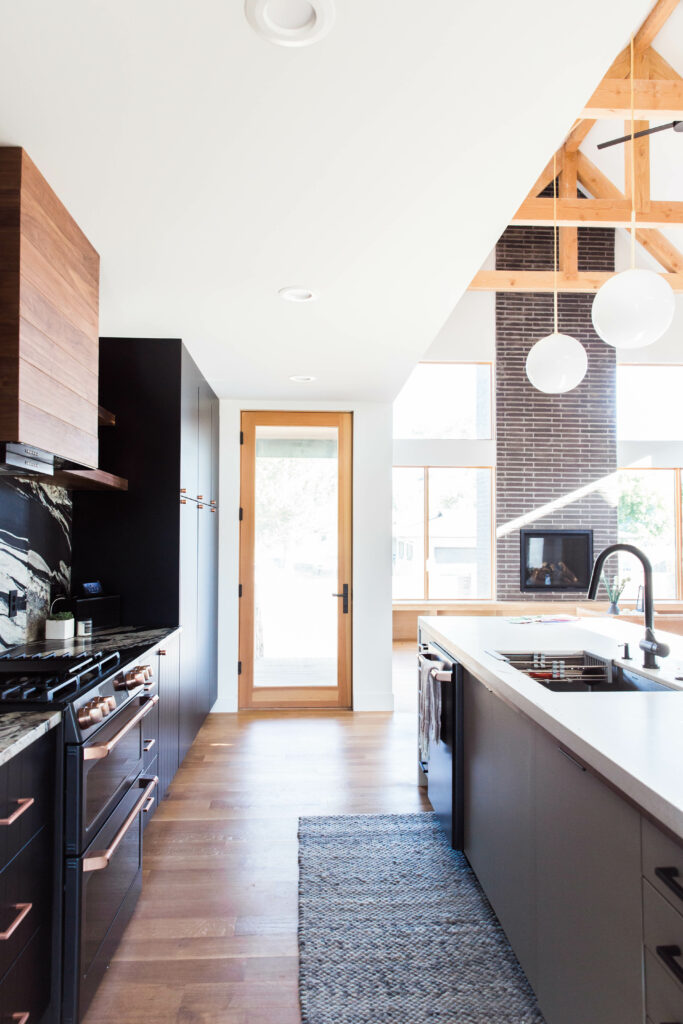 Take our kitchen – Andrew picked out the cabinets from Semi-Handmade.  They offer beautiful, cabinet fronts built to fit the Ikea system.  He also selected the waterfall counter.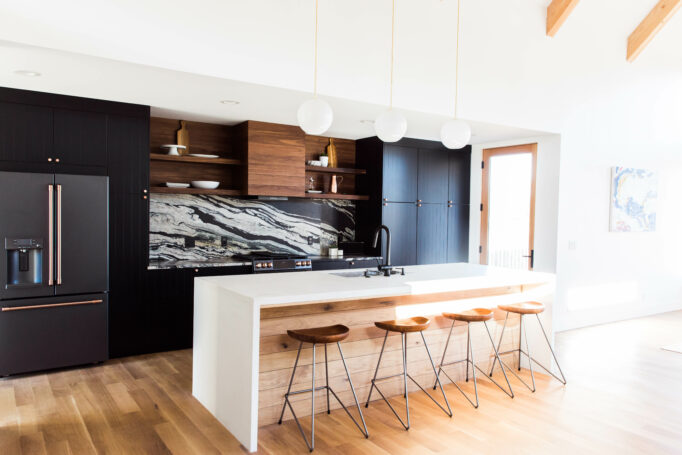 I pushed for the copper fixtures on the appliances and the hardware as well as the dramatic slab for the backsplash.
I'll be delving into each of the signature style categories in greater details in future posts, but tell me what your home aesthetic is in comments in the meantime.  Does it match up with your Fashion style?
In fashion, I'm a Modern-Romantic – for home, I'm Modern-Hollywood Regency.